Diverse Clouds in Salesforce
In this article, we will delve into the Salesforce Clouds from Sales to Service and Marketing to the new admittance such as IoT, Analytics and Commerce. Salesforce focused on sales and marketing, its drift to become an outstanding platform provider could enormously expand its reach.
Salesforce is the cloud-based CRM and is the provider of software-as-a-service based CRM. Salesforce broaden its horizon in marketing and customer service. Salesforce empowered the customers with its reinforcing its core domains, development of mobile development, health-care, internet of things and explored analytics.
Salesforce is devising on its flagship CRM platform and is escalating in various new domains. The company proceeded in progressing in CRM market by becoming platform provider and is established on the technology basis that has made a mark in manifold applications.
Salesforce platform which is often is recognized as Customer Success Platform and has created six production ready clouds for handling manifold operations within the enterprises namely Sales Cloud, Service Cloud, Marketing Cloud, Community Cloud, Einstein Analytics and IoT Cloud.
Salesforce clouds incorporates Lightning platform, App Builder and components which has made momentous changes in Salesforce platform. Applications were being built using Lightning platform on top of Salesforce. Salesforce has broaden its scope above its CRM learnings to ensure the satisfaction and success of the customers. Salesforce has prolonged its reach by creating diversified API's (Application Program Interface). With API's, all the business organizations and partners can build new elements in the apps to empower manifold business operations. Salesforce serve as the foundation on which customers, developers, partners and others can devise unique capabilities.
Sales Cloud, Service Cloud and Marketing Cloud
Salesforce platform has its fundamental areas such as Sales, Marketing and Service. The Sales Cloud, Service Cloud and Marketing Cloud are developed to guide sales reps search the prospects with a manifold of technologies.
Sales reps plan and automate tasks to develop the prospects by using Sales Cloud. Service Cloud handles and manages the customers by using its innumerable tools. Marketing Cloud tools supports preferences in the interactions and communications according to the preferences. All the three clouds assimilate well with each other.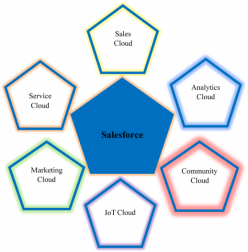 Analytics Cloud, Community Cloud and IoT Cloud
Analytics Cloud in Salesforce helps to analyze the data and empowers the users to visualize the information without having to view the applications. Community Cloud is aimed to empower amalgamation among organization's suppliers, partners and employees. IoT Cloud in Salesforce is connecting and assisting the customers to generate meaningful experiences.
The introduction of Lightning Experience along with its clouds has made Salesforce platform rapid and spontaneous. This has boosted the workflows, automating quote-to-cash and other processes.
HyTechPro, as a Partner
HyTechPro is a global IT service provider unleashing the full potential of businesses, revamping their process and assisting them to administer products, customers, employees and partners. Our Salesforce Customer Satisfaction (CSAT) of 9.64/10 is a testimony to the success we have delivered to our customers.
From Salesforce CRM Consultation to Data Management and Migration to implementation, we hold in-depth expertise. With more than a decade of experience of serving clients across the globe, our customers are enjoying prodigious perks with our Consultation, Customization and Upgradation of salesforce services. Our experts will let you identify where do you stand in the marketplace, what your enterprise needs and what will be your transformation journey map.
Come forward with your idea, if you have any or let us give an opportunity to develop a provoking solution for your enterprise.
Let us know, what you think.